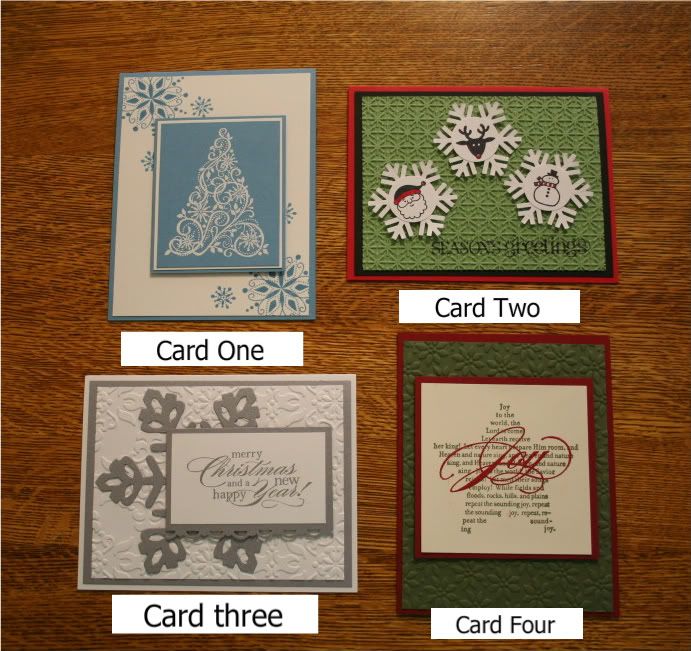 Want to get a head start on your Christmas cards, but don't have the time, space, or the perfect idea for your card? Come make your Christmas cards with us! Pick the card(s) you want to make from the four below, and we will have it all prepared for you when you arrive. Everything will be cut and scored for you, the stamps and ink out and ready for you to use – you don't need to spend time designing, prepping, or cleaning up – just relax and make your cards.
These cards can be done by anyone, from beginners to advanced stampers. You can make 10 cards to 110 cards, or even more! Bring a friend and you can both get your cards done while you enjoy some time together.
Pick one (or more) of the card designs above.

Cards must be done in sets of 10 per design, but you can do as many sets of 10 as you want.

Pick one (or more) of the dates and times below

Pay for the cards you have chosen (cash, check or charge – please do not send charge information via email)
$12.00 for each set of 10 cards includes envelopes and all supplies.
You must pre-register and pre-pay by Sunday, October 16 so that we can have adequate materials prepared. If you are making 50 or more cards, we can print the inside saying for you. Please provide the text you want at least 3 days prior to your scheduled class time.
Class Dates / Times:

Thursday, Oct. 20: 10:00 a.m. – 2:00 p.m. 6:00 p.m. – 10:00 p.m.
Friday, Oct. 21: 10:00 a.m. – 2:00 p.m.
Saturday, Oct 22: 10:00 a.m. – 2:00 p.m. 5:00 p.m. – 9:00 p.m.
DUE TO POPULAR DEMAND WE ARE HAVING THIS CLASS AGAIN IN DECEMBER!

See below for December's schedule.

Friday, Dec. 2nd: 10:00 am – 2:00 pm

Saturday Dec. 3rd: 5:00 pm – 9:00 pm

Sunday, Dec. 4th: 1:00 pm – 5:00 pm

Happy Stamping,
Wendy & Cheryl